A Passion For Peace
Ha

ppy New Year from

Teacher Mom of 3 !! I am so very happy to be guest blogging today at Liv To Teach as part of the linky party/blog hop hosted by Primary Possibilities

!
Just a quick little something about me: I am an elementary reading specialist with 24 years experience in the classroom- from pre-school to g

rade 12!

However, I just began blogging last May and love, love it!! I have three sons: one in college, one in first grade, and one in kindergarten. Yes, there is quite the age gap- LO

L.
Since it is January, I have been thinking ahead to Dr. Martin Luther King's birthday on January 15 (ce

lebrated on 1/21).

An incredible and inspiring man, I really have a passion to share his legacy with the little ones I teach and with my own children. Today, more than ever, our kids need to

know

King's history, the battle he fought, and his amazing accomplishments, all

done

in the name of love. What I have for you today is a collection of picture books

to

use in the classroom for read-alouds and independent reading. Also, I listed a few websites with FREE items and great ideas and information for extending your stud

y. Enjoy!
Picture Books About

Dr.

Martin Luther King Jr. and the Civil Rights Move

ment
I Have A Dream by Dr Martin Luther King Jr. Illustrated by Kadir Nelson
This is a p

icture book and audio Cd set of King's famous speech.

Nominated for Best Picture Books 2012 by Amazon

.
Martin's Big Words: The Life of Dr. Martin Luther King, Jr.

by Doreen Rappaport and illust

rated by

Bryan Collier
For ages 5 and up- excellent introduction to

Ki

ng's speech.

Narrative story infused with

words from King's speech
A Picture Book of Martin Luther King, Jr. (Picture Book Biography

)

by David A. Adler

(

Cam Jansen author!). Illustr

ated by Robert Casilla
For a

ges 6 and up.

Emph

asis of book is

on his childhood and family

.
A Picture Book of Rosa Parks (Picture Book Biographies) by David A. Adler

.

Illustr

ated by Robert Casilla

For ages 6 and up. Details Park's life

.
If You Lived at the Time of Martin Luther King by Ellen Levine

.

Illustrated by Beth Peck

For a

ges 7 and up- gives history of civil rights movement.

A

nswers the question, "Were children involved in the protests

?"
Martin Luther King Jr. (Rookie Biographies) by Wil Mara

For

ages 6 and up- a brief look at his life.

Click here to see the book listing on

Amazo

n.
My Uncle Martin's Big Heart by

Angela Farris Watkins Illustrated by

Eric Velasque

For kindergarten t

o

grade 3.

A s

tory about King's life tol

d from the perspective of his young niece.
If a Bus Could Talk: The Story of Rosa Parks by Faith

R

inggold

For a

ges kindergarten-grade 4

A s

tory about a young girl and a bus that talks.

The main character

l

earns why Rosa Parks is "the mother" of the Civil Rights movemen

t.
Happy Birthday Martin Luther King by Jean Marzoll

Illust

rated by

J. Brian Pin Kney

For p

re-school- grade 2

. An

introduction to King's life- geared toward preschool.
My Dream of Martin Luther King by Faith

R

inggold
Fo

r

ages 6 and up. Described as

"

innovative a

nd

stirr

ing".
The Crayon Box

T

hat Talked by Shane Derolf

.

I

llustrated by

Michael Letzig

For

p

reschool to grade 2. A story about diversity~

poem turned into picture book.

C

rayons learn that they are all unique and important to creating the main character's pictu

re.
Kid-Friendly

W

ebsites
Facts about King's life

:

includes a timeline, speeches, and quotes. Facts about civil rights and civil disobedience.

Includes pictures/photographs.

The re

ading level and quiz are appropriate for older readers- intermediate-middle school. Includes a crossword puzzl

e!
F

or primary students- created by a teacher. Gives basic fa

cts

and includes a quiz and word se

arches.
A

rticle for older students, but also includes a slide

show and free printables.
Free coloring pages and activities

.
Free coloring page with a short bio on the pa

ge.
Check out this site for (5) creative ways for celebrating MLK day with children

.
I hope these resources are helpful to you as you plan your Martin Luther King Jr. Day

activities!
Thank you to Oliv

i

a for hosting me

!!

I leave you with a little FREEBIE I created for MLK Day. The packet includes a bubble map for recording important

facts and two pages of vocabulary cards and pictures.

Just click the pic below to grab your copy. Enjoy!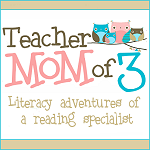 I guest blogged for 1 2 3 Teach with me! You can view my post
here!